If you or a family member has any old newsletters, brochures, membership cards, or other memorabilia, please contact us or stop by a meeting! (This could include information related to the Portland Photographic Society, the Oregon Camera Club, or Oregon Color Slide.)

The Portland Photographic Society was founded in January 1940 in Portland, Oregon. The four founders were Towner H. Phillips (1903-1993), Louise Phillips (1910-1978), Joe Smith (?-?), and May V. Nordstrom (1896-1981). In 1939 and 1940, the four planned and formed a new, central Portland camera club, titled the Portland Photographic Society, as the primary Portland camera club at the time would not enroll women. The four founders felt that a co-ed camera club, open to all, could be formed and succeed.
May V. Nordstrom (born Viola May Harris) was a member of the Miami Tribe of Oklahoma, a Federally recognized Native American Tribe. Towner and Louise Phillips (born Louise A. Gutkaes, in Mexico) were toy makers, shown in this photo with their first model, the Rolla Duck. Many years later, Towner and Louise moved from the Portland area to California, but left a legacy that lives on today.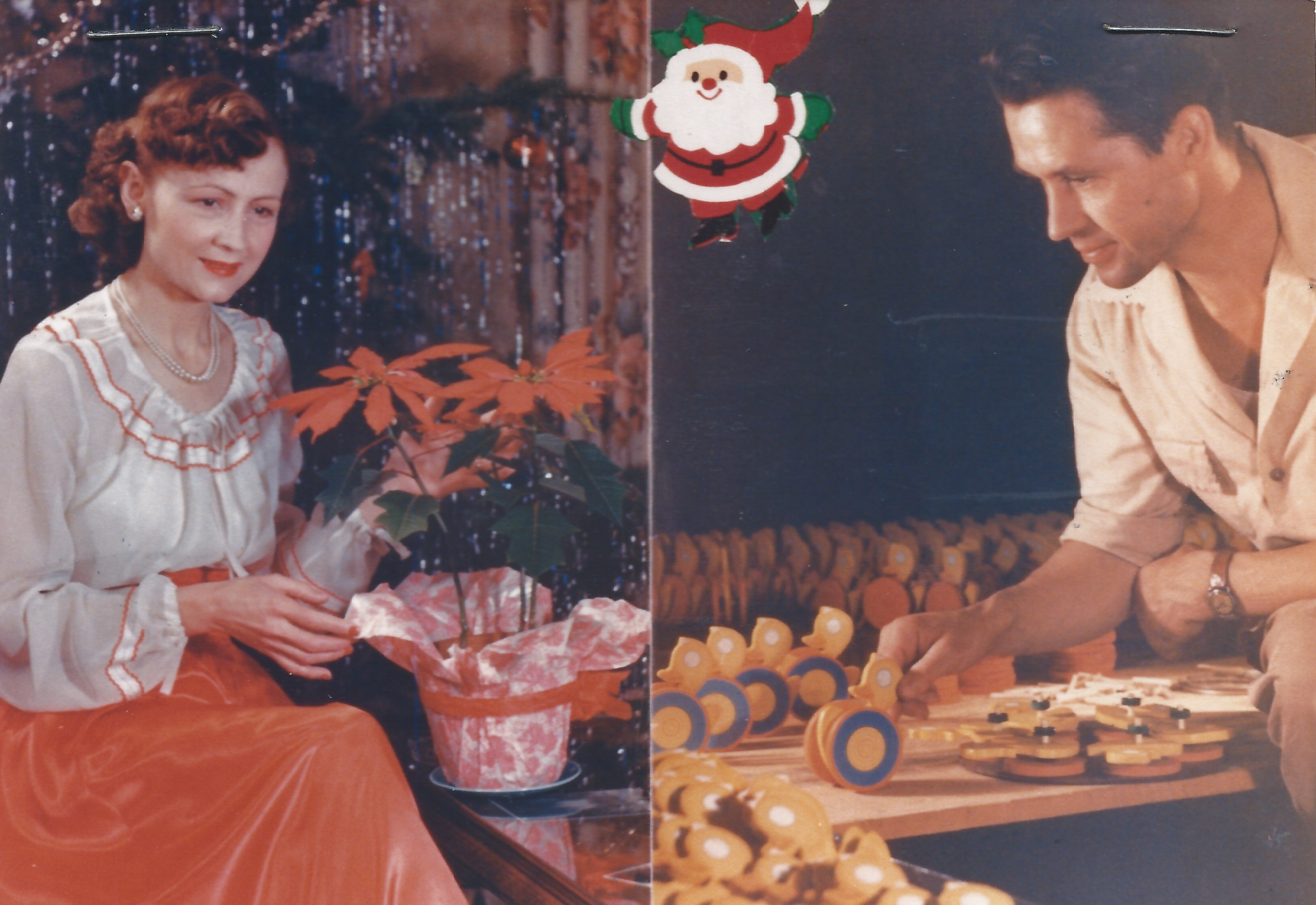 Towner recalls his interest in photography in a 1988 letter to Jim Baker of the PPS:
Our first real camera was an Ikoflex F 4:5 lens 2 1/4 x 2 1/4.  Louise's uncle sent it from Germany.  Our first prize picture was awarded in the Journal Snap Shot Contest.  It was a snap shot of our three year old son Jimmy, sitting on a row boat on the Sandy River.  The Journal titled it, "Reel Concentration" because he was looking down on the fishing rod.

What a thrill, we were hooked on photography and were winners of many Journal contest prizes thereafter.  We sure competed and enjoyed pictures.  Interested, and eager to learn, we joined the Montavilla Camera Club – a neighborly group – there we met Joe Smith and May Nordstrom.  Soon we planned a central camera club as the downtown club wouldn't enroll women.  We felt a co-ed camera club could be formed and succeed.  That's the beginning and the "why" that the Portland Photographic Society was born.

Towner Phillips, 1988
In November 1995, the Portland Photographic Society merged with the Oregon Camera Club, which was formed in Portland in 1895.  Merger talks began in 1991, but took several years to formalize.  At the time of the merger, the Oregon Camera Club had about a dozen active members, while the the PPS had about 60 members, so the PPS name was retained.  All Oregon Camera Club members were given lifetime memberships to the PPS.  A dominant force in Oregon photography, the Oregon Camera Club helped form many spin-off and competing clubs over its 100-year history, including the PPS and Oregon Color Slide.
In 2006, the Portland Photographic Society merged with the Oregon Color Slide photographic club, which was founded in 1951. Oregon Color Slide merged with the PPS following a lengthy integration process during most of 2005. Both clubs were structurally similar, and many people were members of both groups. The PPS name was retained due to the PPS' slightly older heritage and the Oregon Color Slide name being less-descriptive of the club's activities overall, especially considering the growing popularity of digital photography at the time.
Historical Documents
In June of each year (the PPS activity calendar begins in September and ends in August), we put together a "yearbook" with a letter from the president, a summary of the year's activities, and also the society's bylaws and other information. This document has been discontinued along with the newsletter, as this type of communication has largely been replaced by email.
The PPS formerly published a newsletter called "Croppings" detailing upcoming events and meetings. With the popularity of the internet as a medium of communication, the newsletter was discontinued in 2011, but some old examples can be found below:
Below are a few miscellaneous documents, including brochures, scoring guides, and banquet schedules:
Past Monthly Image Themes
Monthly image themes are selected once per year, during the summer. Members are polled by email for their suggestions, and then everyone votes on their favorites from the suggestions.
Competition Winners – Ongoing Competitions
Competition Winners – Discontinued Competitions
Past Presidents