One of the most frequent questions we receive through the website is: "Where should I go to take pictures in Portland?"
In this guide, we have outlined a variety of Portland photography ideas for different areas of interest.  The focus of this guide is on relatively low-cost, publicly-available, photography spots in Portland. As this is only a summary, links are provided so that you can research each location and plan your visit accordingly.
Please be aware that some locations may not be open all year, and may have visitors fees or other visiting restrictions.  Please always be courteous and respect the property of others.
Parks, Nature, and Wildlife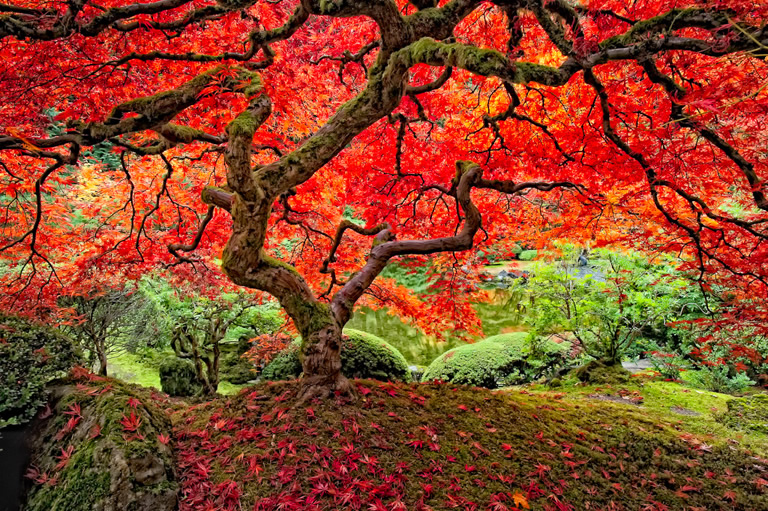 Portland is famous for its parks, with about 16% of the city's area dedicated to park space.  Parks tend to offer many photographic opportunities, and are both accessible and inexpensive.
Washington Park
Washington Park (wikipedia) is just west of downtown and is home to the Portland Japanese Garden, the International Rose Test Garden, and the Hoyt Arboretum.  During the spring, summer, and fall, numerous landscape, nature, and floral opportunities are available for photographers.  Even during the winter, creative photographers will find subjects of interest throughout Washington Park's many attractions.
Washington Park also includes the indoor attractions of the Portland Children's Museum, the Oregon Zoo, and the World Forestry Center.
Popular Parks
 Largest and Smallest Parks
Forest Park (wikipedia) is the largest wilderness park within city limits in the United States, covering more than 5,000 acres (2,023 ha). More than 112 bird species and 62 mammal species live in the park, and numerous hiking trails are available.
Mill Ends Park (wikipedia) the "world's smallest park", is a two-foot-diameter circle with an area of only about 0.3 m2.
Botanical Gardens
Further reading
Wildlife Refuges and Natural Areas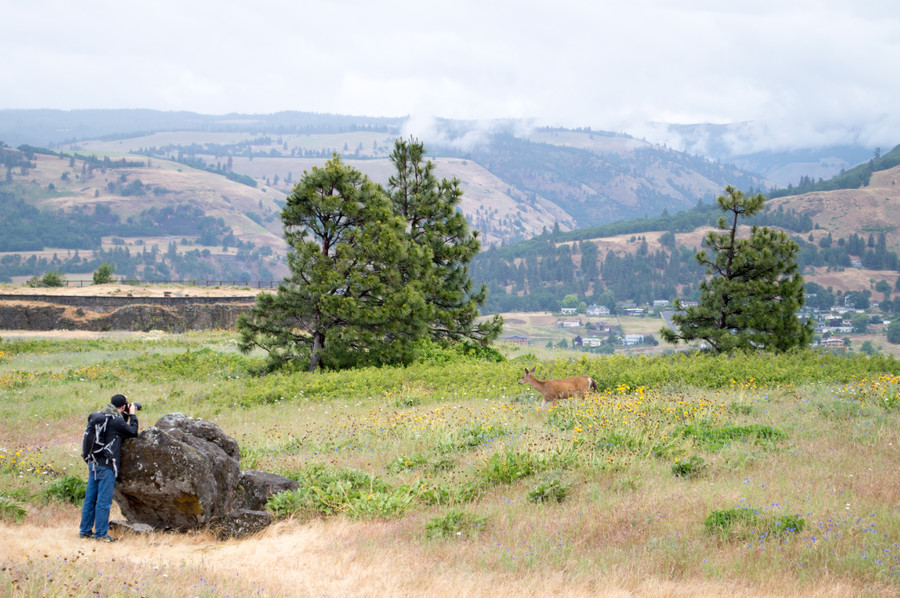 Many large natural areas and wildlife refuges are located within and near Portland.
In Portland
Near Portland
Further reading
Scenic Viewpoints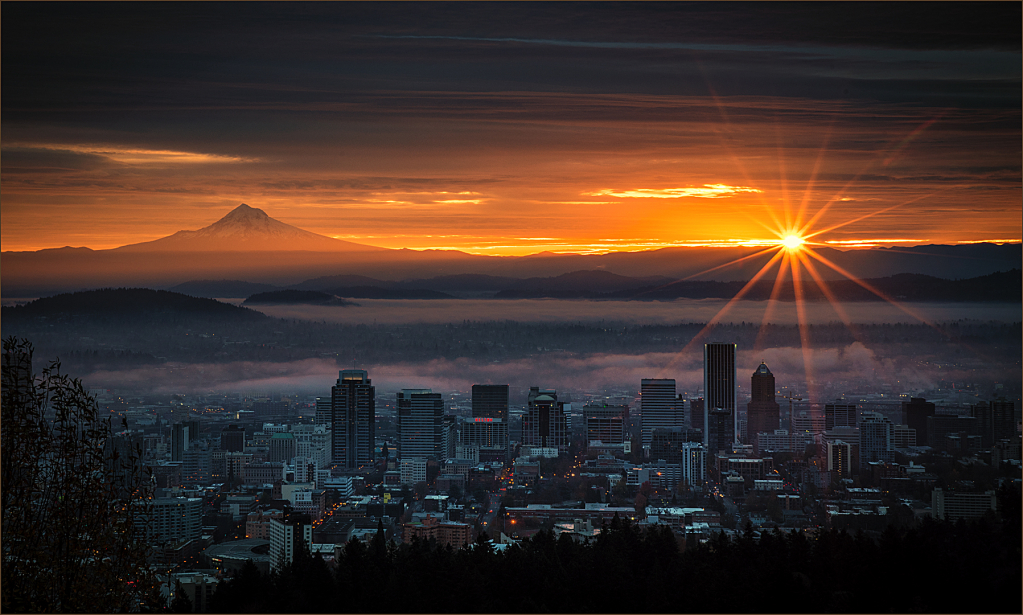 There are many popular scenic viewpoints in and around the Portland area.
Scenic Viewpoints
Crown Point and Vista House (wikipedia) (friends of vista house) are about 15 miles East of downtown Portland, and overlook the Columbia Gorge.
Eastbank Esplanade (wikipedia) is a bike and pedestrian corridor on the East side of the Willamette River, offering views of the river and downtown Portland.  The lighting on downtown is best in the morning, coming from behind the photographer.
James Woodhill Park at Rocky Butte (wikipedia) is a 2.3 acre park featuring views of Portland and Mt. Hood.
Mount Tabor Park (wikipedia) is a sprawling 196 acres located on the East side of Portland, and features scenic views of the greater Portland area, as well other amenities (sports field, playgrounds, etc.). Mt. Tabor is a dormant volcanic cinder cone.
Multnomah Falls National Monument (wikipedia) is part of the Columbia River Gorge National Scenic Area, and features several waterfalls and many hiking trails.  A short hike up the falls will bring the hiker to many scenic views of the Columbia Gorge.  It remains one of Portland's most popular destinations, and it is worth the detour to travel from Portland via the Columbia River Scenic Highway rather than the interstate.
Oregon Health Sciences University Ariel Tram (wikipedia) connects the two major campuses of OHSU.  From the tram, and from the indoor and outdoor observation decks at the top, sweeping views of Portland can be seen.  The tram is closed on Sunday, but the observation deck is still accessible by car.  The lighting on the city tends to be best in the afternoon and evening, coming from behind the photographer and lighting up the city and Mt. Hood.
Pittock Mansion (wikipedia) provides east-facing views of the city, East Portland, and Mt. Hood.  The mansion and grounds also will likely provide some photographic interest.
Finally, most of Portland's bridges provide scenic views (see below).
Bridges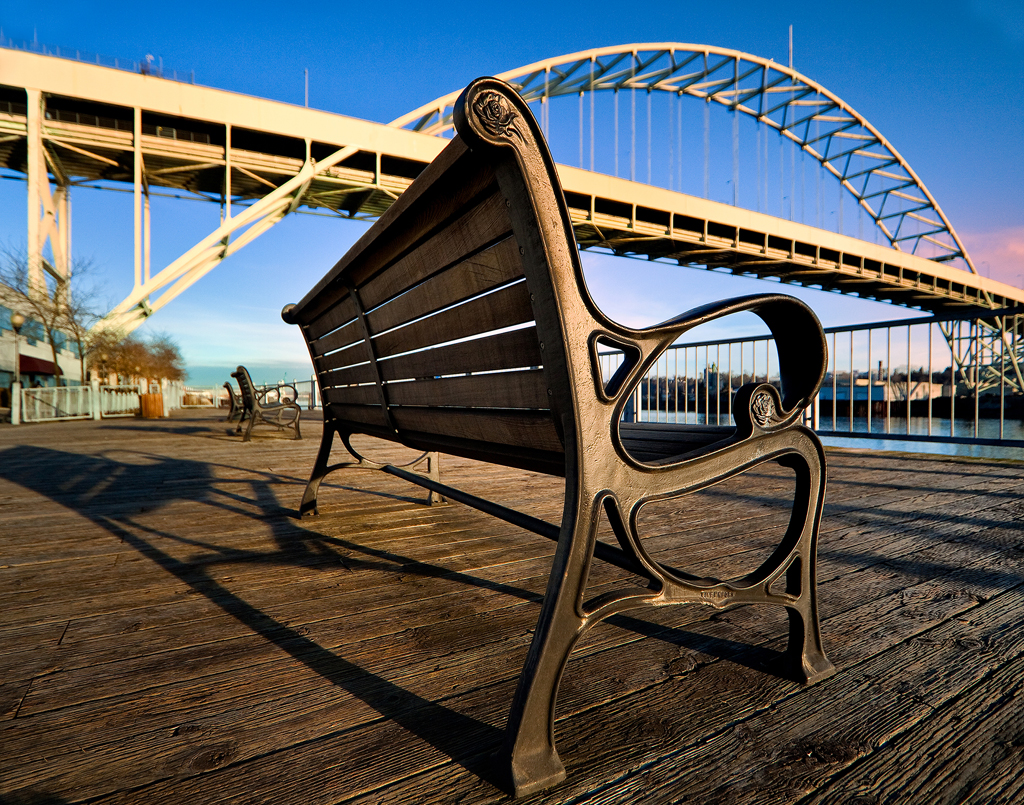 Located at the intersection of two rivers, Portland features many impressive bridges.  Arguably, the most architecturally impressive of these bridges are the St. Johns, Fremont, and Burnside bridges.  However, this is open to the interpretation and creativity of the photographer.
Bridges
Architecture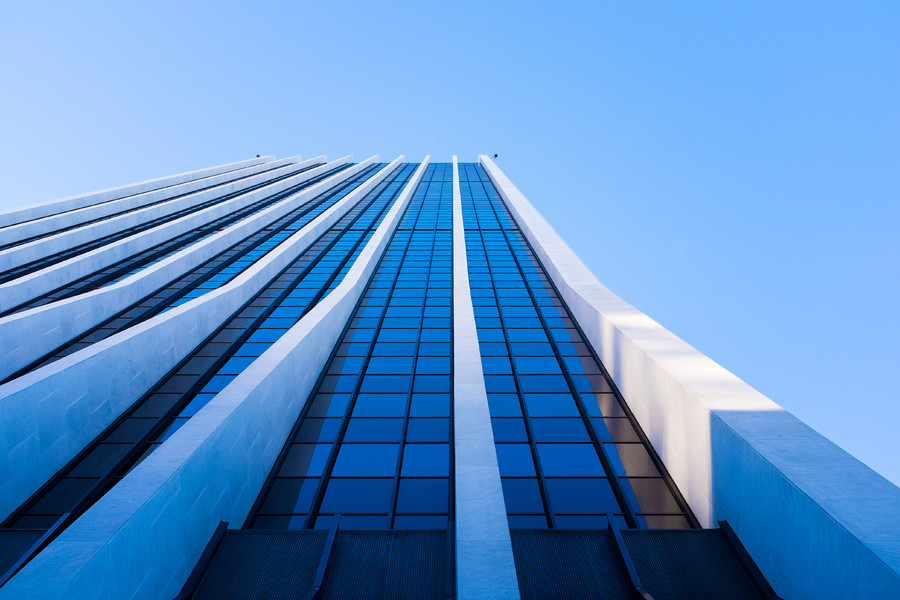 Over 500 buildings in Portland are registered on the National Register of Historic Places.  These lists of historic places should provide numerous ideas for the architectural photographer.
Buildings
For lists of these historic buildings, please see the tables for the appropriate area of town: North | Northeast | Northwest | Southeast | Southwest 
Below are a few well-known Portland buildings, from the Wikipedia page on Portland's Architecture:
Other Architectural Areas of Interest
Further Reading
People and Events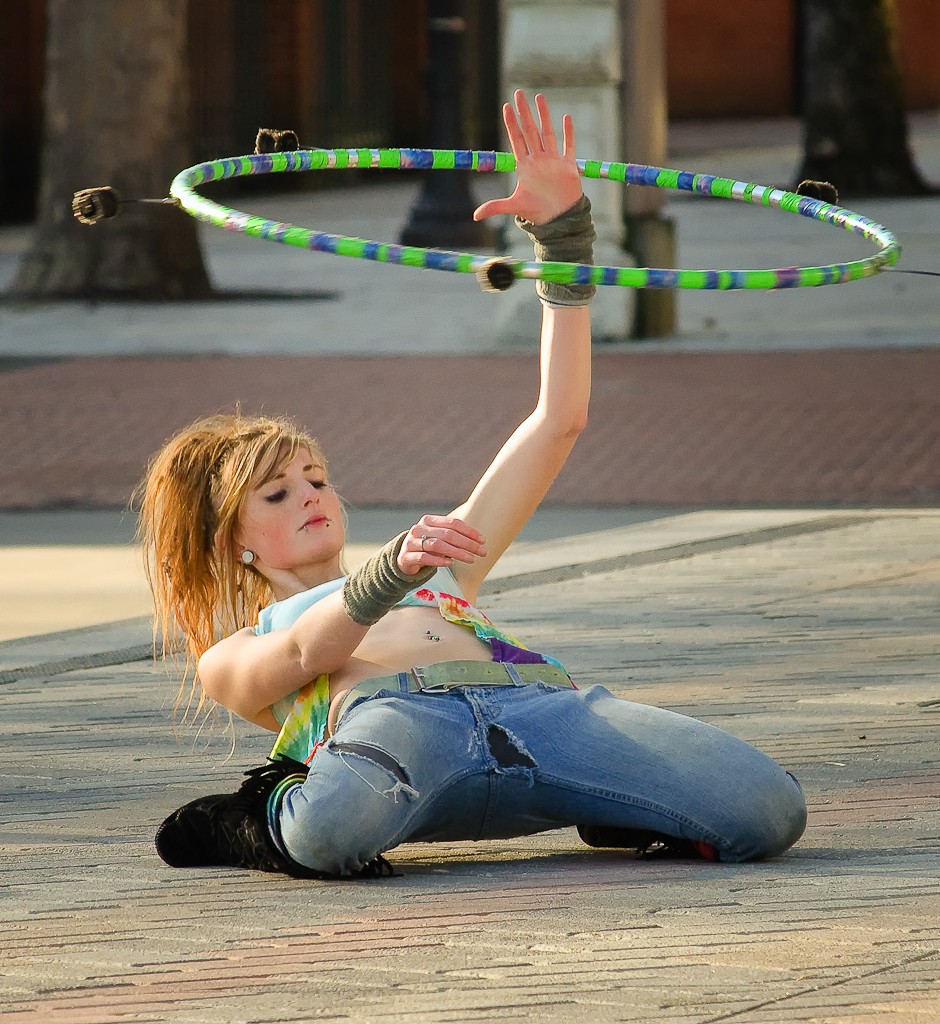 There are many events, even through the winter, that may interest photographers, covering food, drink, music, art, and culture.  Additionally, Portlanders are generally friendly and most are happy to pose for a portrait if asked.
Popular Areas to walk, shop, and peoplewatch

Popular Events
Sports and Recreation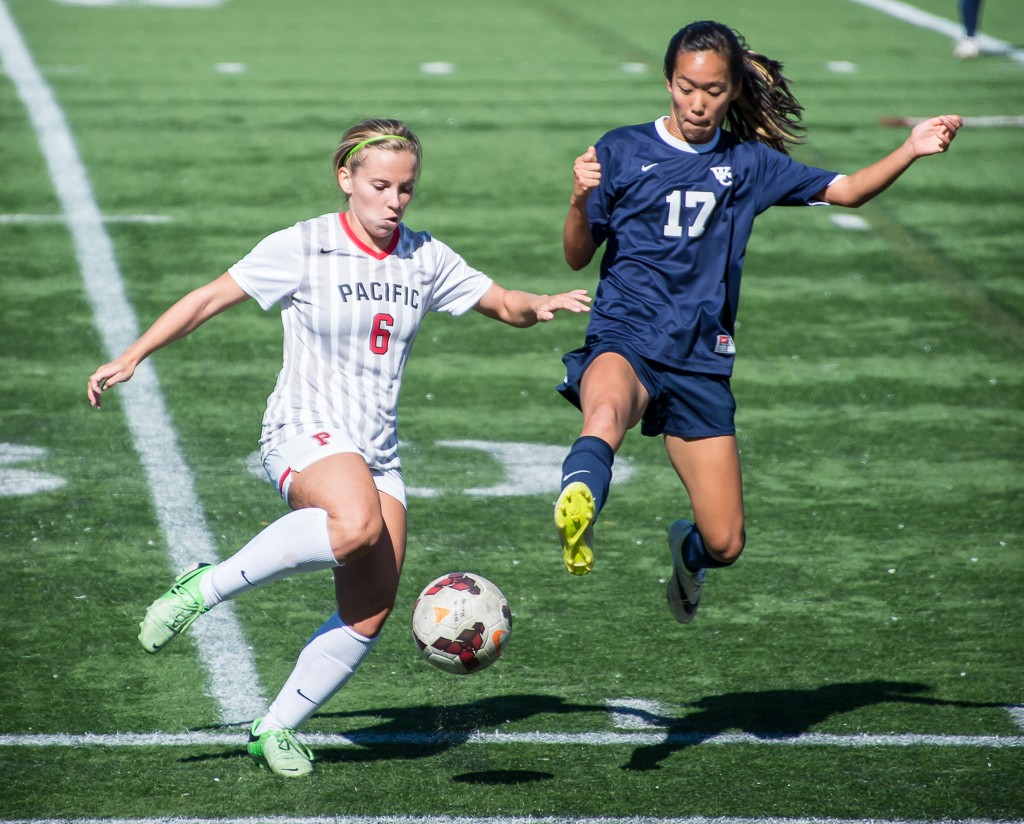 Portland is home to both the world headquarters of NIKE as well as the North American headquarters of adidas, and has a long history in professional sports from the Portland Trail Blazers (founded 1970) to the Portland Timbers (founded 2009).  Further, Portland is well known for its active communities in a variety of other sports, including running, cycling, and skateboarding.
College Athletics (baseball, basketball, football, golf, rowing, soccer, swimming, tennis, track and field, etc.)
Auto Racing
Basketball
Baseball
Boating
Cycling
The Alpenrose Velodrome, a cycling racetrack, and one of the steepest in the United States
Numerous cycling races – visit the OBRA and Portland Racing for more information
Numerous large-scale rides including:
Football
Hockey
Running
Portland hosts many large-scale running events including:
Skateboarding
Soccer